Just got my boots in today, thank you very much! I'm extremely satisfied with them, I haven't got to wear them much but I put them on to be sure they fit, and there exactly what I wanted. Shipping was very fast and I'm surprised they got here this soon. Thank you for all your help, I would for sure recommend you guys to anybody and would go to you every time. Thanks again for all your help!!
Ronald, Kingdom City, MO
More testimonials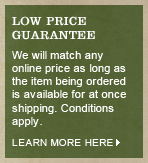 Browse these categories under "Ladies Boots and Shoes"